Ms Nirmala Sitaraman, Hon. Finance Minister presented her maiden Union Budget in Lok Sabha on Friday. Firstly, she started her speech by quoting recent General Elections 2019 and endorsed the thumping victory of NDA. Secondly, the Finance Minister acknowledged the large turnout of voters, especially women voters, to vote for a stable govt. Thirdly, and most importantly, she said the voters of India had approved the national society and economic growth for our country's future. Moreover, discussing some essential questions, we present to you Union Budget 2019: A Simple Analysis and Important points.
You can download and read this complete speech here…
Did the budget reduce living costs for the ordinary man?
There are a few concerns about the costs of petrol and gas since the budget has levied an extra obligation of ₹1 on propellant and excise. However, that's very likely to only lessen the advantage, particularly in a decreasing crude costs situation. Meanwhile, the price of electronic trades will reduce. With an accelerating change to electronic transactions, and with the budget placing a bar on the NEFT, RTGS, and UPI fees, that ought to be great news for the people at large. Meanwhile, increasing of surcharge on income over ₹2cr may affect only the high-income groups and are not going to influence the vast majority of taxpayers. For smaller traders and unorganized shopkeepers, there's a guaranteed retirement of Rs3000, which is going to be a blessing to their long-term societal safety.
Has the budget reduced the tax load on people?
To be honest, the interim budget had made income up to ₹5 lakhs exempt using a rebate under Section 87 of the Income Tax Act. Therefore, the entire budget hasn't made any modifications in the tax slab. But for low-cost homes up to some value of Rs45 lakh, the exemption under Section 24 has been raised from ₹2 lakhs to ₹3.50 lakhs. When you're planning to purchase an Electric Vehicle in the future, you can enjoy an extra tax exemption of ₹1.50 lakh out of your earnings for being environment-friendly.
Does the budget offer more reliable prospects to investors and taxpayers?
Among the vital things that ordinary people usually request is a much more prominent choice out there. Here, the budget has taken a significant step forward by creating the PAN card as well as the Aadhar interchangeable. Meanwhile, filing of tax returns along with your high-value purchases could be carried out with the support of your Aadhar card in the lack of a PAN card. Officially, the Aadhar becomes the default identification record for Indians, and that's the ideal road forward because we don't demand numerous documents in the procedure. The budget also has made pre-filled returns accessible so that individuals do not go through the intricate process of submitting documents repeatedly. As a result, this lessens the time and reduces the odds of mistakes in return filing.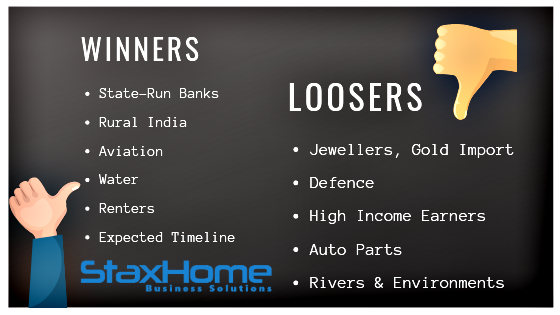 Union Budget 2019: A Simple Analysis and the key outcomes from Finance Minister Maiden Budget speech
The economy will flourish to become a $3 trillion economy in 2019-20 itself.
People can use Aadhaar number to file I-T Returns.
Excise duty on petrol, diesel to be hiked by ₹ 1
Angel tax: Startups are not subject to any scrutiny for valuation.
TDS of 2 percent on cash withdrawals surpassing Rs 1 crore in a year
A TV channel for promoting startups
Customs duty on imported books increased by 5 percent.
Custom duty on auto parts and CCTV increased, custom duty on gold and other metals increased to 12.5 percent.
No tax on income up to 5 lakh
In the General Budget, tax burden is increased on the rich, 7 per cent additional tax on income of more than 50 million.
The exemption limit on interest has increased from 2 to 3.5 lakh. 3.5 lakh discount on housing loan.
The offer of 2 percent TDS on withdrawal of more than 1 crore in one year from the bank account.
The government has planned to invest Rs 100 lakh crore in infrastructure in the next 5 years.
The big news in the budget for the middle class – 1.5 lakh additional rebate on buying a house of 45 lakhs.
Relief to companies with up to 400 million turnovers Corporate tax of 25 per cent on turnover of 400 million
Growth grew 13.8%, the goal of reaching banking doors to every door. NBFCs do not stop funding.
The Government has planned to invest Rs 100 lakh crore in infrastructure in the next five years.
NRI no longer needs 180 days to wait. NRI will get Aadhaar card after their arrival in India.
This Government encourages women. Emphasis on women to improve their situation.
Women voted in large numbers this time.
Under the money scheme, The Government will provide loans up to one lakh to women.
Women's vital role in the rural economy. The Government will open Bank Accounts of women under the Jan-Dhan Yojana.
The Government will bring new Education Policy in India; no Indian university was present in the top 200 Global university ranking. Now there are three institutions in the top 200. This recognition has happened because of our efforts. Efforts will continue to improve. The Government will also build the National Research Foundation.
Play India will expand the scheme. The Government will establish a National Sports Board under this scheme.
The Government distributed Thirty-five million bulbs under the Ujala scheme. Saving 18,341 crores annually
Play India will expand the scheme and establish a National Sports Board under this scheme.
It is the Government's work to ensure adequate water supply to all Indians while ensuring water security of India; the foremost step has been taken. Water will work on the demand and supply of water under Mission.
There will be an extensive investment in agriculture; many programs are available for making Anandara an energetic Plan to create 10000 organizations in the next five years, there will be no need to bring the budget for the farmers in the recent time.
The goal of building 135KM road every day, to create roads connecting villages with rural markets.
Get the socio-economic benefits in the rural areas through the Pradhan Mantri Gram Sadak Yojana, the benefits received from the villages from PM Road Scheme
This time the name of the budget was changed to bookkeeping (or in hindi Bahi Khata)
Village, poor and peasants are our focal points, Ujwala good luck plans change the life of the village.
The idea of ​​providing loans to small shopkeepers in 59 minutes.
In the insurance sector, 100 percent foreign investment has been said.
Consider the pension for retailers.
The Government will work on plans for the national grid for water and gas.
Indian economy is the world's sixth largest economy.
3 trillion dollars by the end of the year.
The Government will work to give a home to everyone.
Big change plan in electricity tariff
Approval of 300-kilometer metro rail in 2019-20
Toilets built in all houses for women's dignity
Like Swadeshi before Independence, the importance of Make in India is the same.
Aam Aadmi can fly air travel scheme
Help in the development of national road corridors and highways from Bharatmala
300 km new metro project in 2018-19
To add Smaller cities in the flying plan.
The licensing regime ended in the country.
Electric vehicles got encouragement.
The movement of cargo on river Ganges will increase by four times in the next four years.
Investments of 50 lakhs Crore in Railways in 12 years
Investment from PPP in Railways
Small industries will get one crore loan arrangements in 59 seconds
Pension to 30 million retailers
Mala and Sagarmala project, waterways and flight schemes.
FDI 100% media & insurance
Conclusion
To sum up, the Defense Minister tried to take care of every class in this budget. Due to increasing cess on things like petrol and diesel, it is decided to increase the prices of these related items. We can say difficult times, severe measures, and also as excerpted by the Finance Minister.
Vision for the Decade:
Building physical and social infrastructure;
Digital India reaching every sector of the economy;
Pollution free India with green Mother Earth and Blue Skies;
Make in India with particular emphasis on MSMEs, Start-ups, defence manufacturing, automobiles, electronics, fabs and batteries, and medical devices;
Water, water management, clean Rivers;
Blue Economy;
Space programmes, Gaganyan, Chandrayan and Satellite programmes;
Self-sufficiency and export of food-grains, pulses, oilseeds, fruits and vegetables;
Healthy society – Ayushman Bharat, well-nourished women & children. Safety of citizens;
Team India with Jan Bhagidari. Minimum Government Maximum Governance.
In conclusion, we can hope this Budget may fulfill the vision of a New India. Above all, Desperate times often ask for extreme measures. Also, we cannot say this Budget is flawless, but guess what? Budget can never be perfect, and we have to make any budget an ideal. We are a population of 1.3 Billion, and everyone cannot be happy, but the least we can do is to contribute in our way and make our country a $5 Trillion Economy.
If you enjoyed reading Union Budget 2019: A Simple Analysis and Key Points, please give us your suggestions in the comments section below, you can also share this post with your friends.
Your Tax Sewak
Summary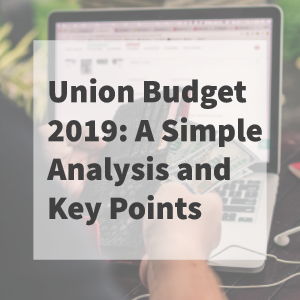 Article Name
Union Budget 2019: A Simple Analysis and Key Points
Description
Does the budget offer more reliable prospects to investors and taxpayers? Read our analysis
Author
Publisher Name
Staxhome Business Solutions
Publisher Logo